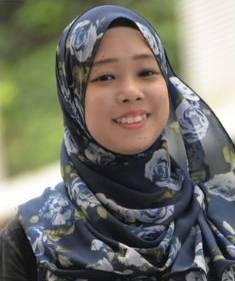 Siti Zulriah Rahmat
More than a decade ago, Siti Zulriah Mohd Rahmat started mentoring a group of Institute of Technical Education (ITE) students under Persatuan Persuratan Pemuda Pemudi Melayu (4PM) Project bITE (Bestari ITE) programme. Today, she is still in touch with a number of them as mentor and mentee continue to engage and develop a special relationship that will last a lifetime. 
Siti Zulriah was a former student of ITE herself, got involved with 4PM after taking part in the programme as a participant of Project bITE while still in school. Project bITE is a holistic programme dedicated to ITE students with the aim of talents and values such as independence and lifelong learning. She signed up as a 4PM volunteer after experiencing the benefit of the programme and felt the needed to contribute back to community. She is also a graduate in Multimedia Technology from ITE Macpherson who now holds a Diploma in Multimedia and Infocomm Technology from Nanyang Polytechnic (NYP). 
During her studies, she volunteered as a tutor, teaching primary school children under the Light Your Future progamme in 2004. She was also involved in Project bITE for close to 13 years besides helping out in 4PM's signature programme, Ramadan On Wheels (ROW). She was also  a member of the Community Engagement Committee (CEC) and has been involved in organising 4PM's Flag Day and Volunteers' Welcome Tea. 
Her work as a volunteer was recognised when she received 4PM's Outstanding Service Award (Anugerah Jasa Bakti) in 2014 for her contributions as a volunteer for more than eight years. Siti Zulriah is also a recipient of National Youth Council's Most Inspiring Mentor Award in 2012. The information technology trainer was also a mentor to a group of youths at risk under the Podz Youth Mentoring Programme conducted by NYC.