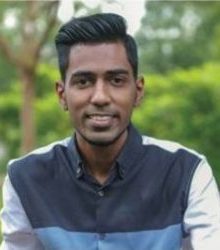 Abu Bakar Sadiq Aslam
From an introverted young man who had little faith in his own abilities, Abu Bakar Sidiq Aslam now serves as Honorary Treasurer of the organisation that has nurtured him to be a mature, confident young man that he is today. When he was 18 years old and was a fresh graduate of the Institute of Technical Education (ITE), Sidiq became one of the youngest in Persatuan Persuratan Pemuda Pemudi Melayu (4PM) management committee.
The environment spurs him to pursue his Diploma in Chemical Process Technology and achieving his Bachelor of Science degree.Despite his schedule, Siddiq spearhead various 4PM programmes such as Remaja Resilien and Project Bestari ITE and other 4PM activities. Part of his responsibilities now includes guiding these young leaders as well as looking out for potential future leaders for 4PM. Now a Process Engineer at ExxonMobil by profession, Siddiq continues to enjoy the "grind" of volunteer work.